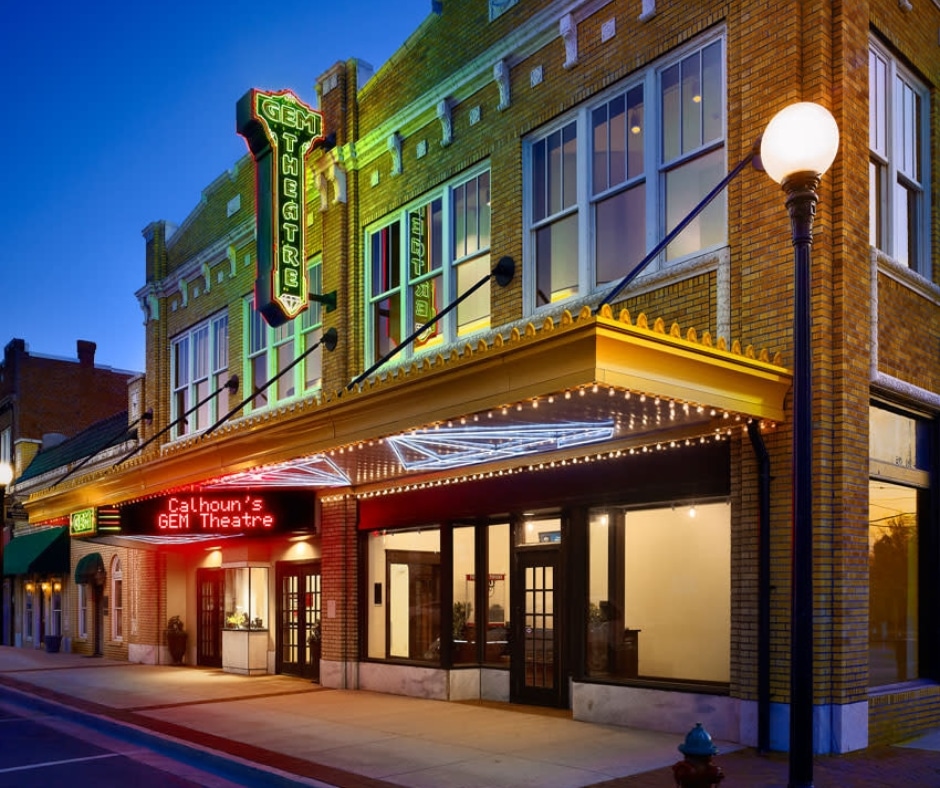 GEM Theatre
Calhoun's GEM Theatre…where someone viewed Gone With The Wind for the very first time…the location a resident watched the news and received World War II updates…the place a child sat every Saturday captivated by cartoons…where a couple had their first date…and where everyone in Gordon County came for entertainment.
The GEM Theatre was established in downtown Calhoun in 1927 and expanded to its current size in 1939. The theatre was Calhoun's only movie and performing arts venue until it closed in the late '70's.
The GEM building (which was vacant for the majority of the past 20 years) was purchased in 2001 thanks to the vision of Raymond and Pearl King and their children Ted and Ginger, who wished to see the theatre restored to its previous glory.
The main theatre area had remained intact; however, water damage had destroyed the stage and ruined much of the interior. The Friends of the GEM hired an architectural firm and contractor that specialized in historic restoration and after 10 tireless years of fundraising, the GEM Theatre re-opened on August 27, 2011. In 2012, the theatre was recognized as a  Georgia Trust for Historic Preservation Rehabilitation Award recipient.
The GEM features the best of both the past and present, as its appearance takes you back to 1939 and its amenities provide a state-of-the-art theatre experience. The original GEM is best remembered as a movie theatre, but the renovated 461 seat GEM showcases a variety of entertainment including concerts, plays, and movies.
Most importantly, the GEM is the community's theatre. It is the "gem" in Calhoun's crown.
Contact Information
114 N. Wall Street Calhoun, GA 30701