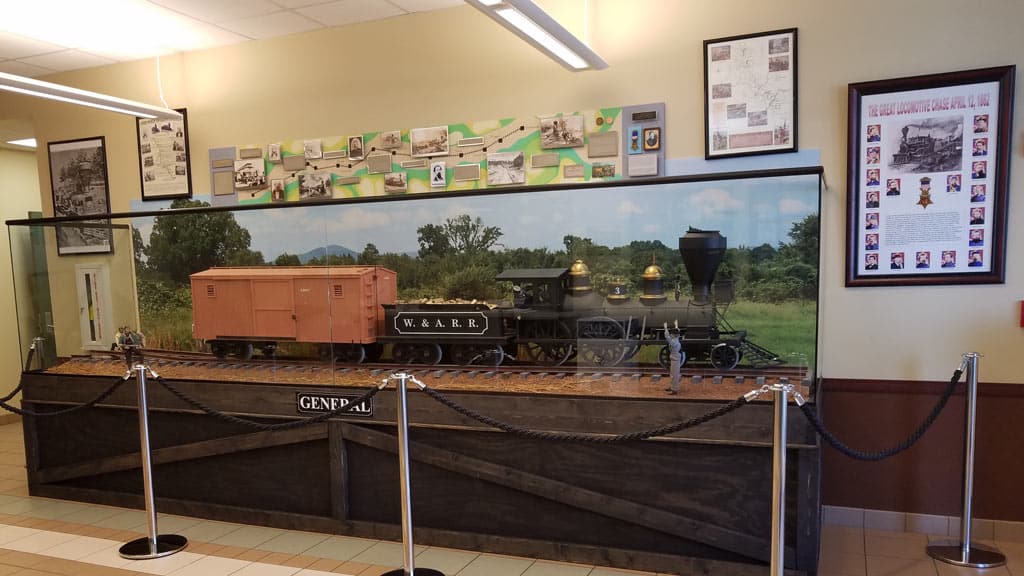 "The General" Locomotive Display
Secured by The Friends of Resaca Battlefield, Inc., "The General" locomotive train display is housed in the lobby of the Gordon County Sheriff's Office. With a photographic back scene of Gordon County countryside, the 16-foot long display consists of the locomotive, wood tender, rail cars, and G.I. Joe-sized figures representing the raiders destroying the tracks. Also included are various framed displays showing the route and telling the story of the Great Locomotive Chase.
The Great Locomotive Chase occurred on April 12, 1862 and Gordon County played a major role in the 87 mile chase between "The General" and "The Texas" which resulted in the awarding of America's first Congressional Medals of Honor. The display was a gift to the Friends of Resaca Battlefield by the Georgia Civil War Commission after the closing of the Nash Farm Museum.
The public is welcome to visit the display at the Gordon County Sheriff's Office from Monday through Friday between 8:00 A.M. and 5:00 P.M.
Contact Information
2700 U.S. Highway 41, NW Calhoun, GA 30701