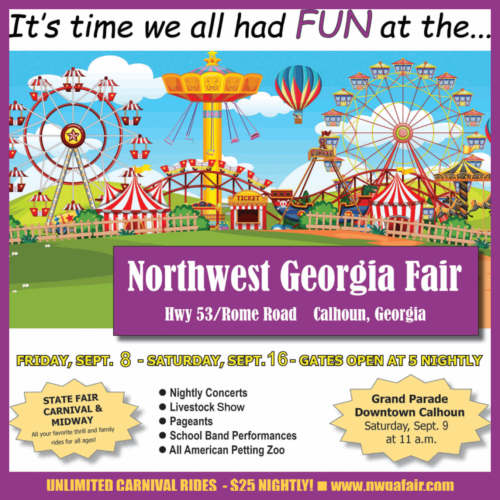 Northwest Georgia Regional Fair – It's time we all had fun at the Annual Northwest Georgia Regional Fair.  The fair will be held nightly Friday, September 8th through Saturday September 16th on Highway 53/Rome Road in Calhoun. The State Fair Carnival/Midway is sure to be the absolute best! Rides and attractions will adorn the midway for nine days of excitement, competitions, educational experiences and making memories!
Every night will highlight local and regional entertainers, bands, dancers and other nightly performances as well as the return of the All-American Petting Zoo. Regional Livestock and Blue-Ribbon Competitions and Pageants are scheduled throughout the event. Concerts nightly featuring high school bands and local artists.
This year's Grand Parade in downtown Calhoun will be on Saturday, September 9th beginning at 11:00 a.m. and will include floats, marching bands, pageant winners from the past, this year's pageant entrants, tractors, antique cars and much, much more. Come join the fun.